WHAT GOES WELL WITH POLO SHIRTS?
When considering what goes well with polo shirts, there are a number of factors to consider. These are: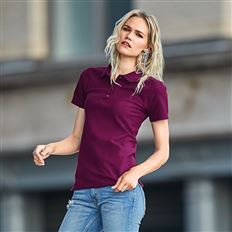 getting the right look;

what else to wear with them; and

consideration of where and when they'll be worn.
There's a fine line between getting the right look and falling short of the mark. Crucial aspects to take note of are logos, buttons, shapes, and sizes. If just one of these is even slightly off, the entire appearance can end up ruined. However, when worn correctly, especially if personalised, polo shirts are stylish and attractive additions to the wardrobe. They can flatter your body shape, add a degree of class and complete the wearer's look.
The short answer to the question of "what goes well with polo shirts?" is, "pretty well anything". As polo shirts can be smart or casual, they look great with various other garments, from jeans to dress trousers and skirts too.
Polo Shirts for All Seasons
In the summer time, it's likely that you'll be looking at wearing polo shirts more often due to their airy construction. They work really well with shorts or skirts or as stylish beachwear over swimwear.
When it's cooler, they still work when teamed with jackets and jeans for a smart but informal look in the office or restaurant. Try mixing in complementary colours and fabrics rather than being too 'themed' about it. Of course personalising with an embroidered logo adds an extra layer of style and makes a great talking point.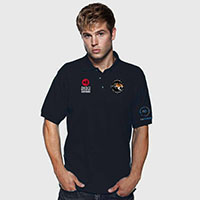 At Anagi Embroidery & Screen Printing, we are pleased to offer you an extensive range of bespoke polo shirts. You can see some of the hundreds of variations we have available at our premises and in our online catalogue. Thanks in large part to the considerable number of options we offer, we've earned quite a reputation for giving people what they want. We can add embroidery, screen printed or heat transferred images to any of the garments so they are completely bespoke.
Our recipe for success is primarily that we offer bespoke embroidered and printed polo shirts UK clients will really love. We satisfy all requirements, allowing you to add your own bespoke artwork or text to the garments you choose. Ideal for work uniforms and leisure wear too, our personalised products really stand out from the crowd.
If we can be of assistance to you, please get in touch with us. We are happy to suggest specific garments, whether you are looking for durable yet breathable workwear, or comfortable leisure wear. We can help you to decide what goes well with polo shirts and help you choose colours and styles.
Blog Posted: 13/03/2017 and updated 28/08/2017
Posted by: Andy